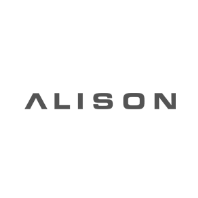 2022
SOC-as-a-Service

48
2018
Artificial Intelligence

41
2012
37
2010
Efficient IT management
2008
Solutions in the Civil Protection Segment
2005
Communication Dispatch Centres
2001
30
1999
IP Telephony
Unified Communication
Contact Centres for the Financial Segment
1995
Tools for Information Encryption
1993
Business Phone Exchanges
Corporate Profile
ALISON Slovakia was created in the 1990s, when the iconic Ericsson brand was divided up. Advances in technology, changing international structures and developing customer demands all contributed to the establishment of a specialized IT unit in 2006. The ALISON brand became known as an expert on Cyber Security.
The locations once reserved for telephone exchanges are now taken up by information giants with immediate availability, high security and advanced functionality.
Our current level of expertise is based on three decades of providing extensive communication solutions to both public administration agencies and private companies.
We value our competence and are therefore capable of acting both as a team player in large projects and as a flexible specialized supplier. We are convinced that the world of technologies is structured and demanding, but also that a combination of hard work and courage is what delivers excellent results.
---
Cybersecurity Made in Europe
ALISON Slovakia successfully passed the evaluation which allows it to use the Cybersecurity Made in Europe Label.

The assessment methodology is supervised by the European Cyber Security Organisation (ECSO) and the label can only be obtained by those European cyber security companies that meet strict standards for professionalism and legislative compliance, and employ more than half of their staff in the European Union. The assessment process also verifies that the company meets the basic security requirements defined by the European Cyber Security Agency (ENISA).

In Slovakia the Cybersecurity Made In Europe Label is awarded by the Cybersecurity Competence and Certification Centre (KCCKB) which has a contract with the European Cybersecurity Organization.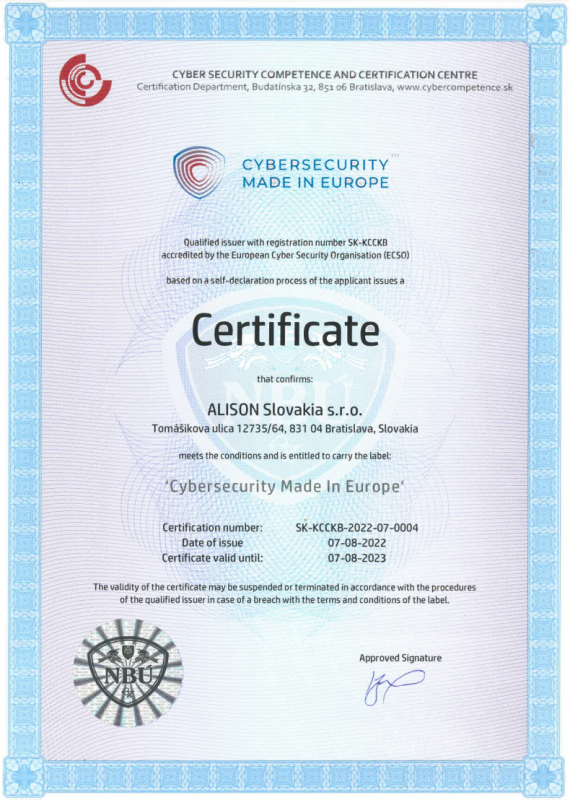 Management systems
Management systems are integral to the way we do things at ALISON Slovakia, aiming to optimize operating procedures and processes while increasing the quality of our services. They are among our corporate priorities and helps ensure that all our projects and activities meet the quality and safety demands of our customers.
Reliable partner in the public procurement

SIMS, The Academy of Economic Information and Analysis confirms the result of the assessment of reliability in the fulfilment of the content, quality and timeliness of the obligations arising from public procurement contracts. In 2022, 16.3 percent of the 11 651 suppliers of public procurement contracts received the rating Reliable Partner.

Quality Management System ISO 9001
Information Security Management ISO 27001
Environmental Management System ISO 14001
IT Service Management System ISO 20000-1
Business Continuity Management System ISO 22301